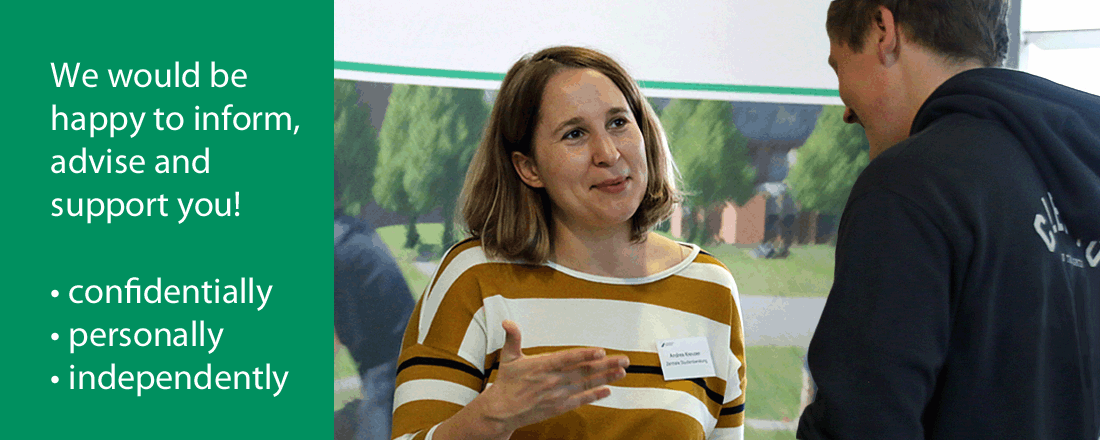 Welcome to Student Advising!
We're there for you:


Quick question? Looking for the right person to contact?
You can always reach our hotline from Tuesday to Thursday from 10:00 to 11:00 a.m. at 0921/55-4433.(Important: there will be no telephone consultation on 14.06.23!)


Our Open Zoom consultation hour takes place on Wednesday afternoons from 2:00 to 3:00 pm. (Important information: .T.he Zoom consultation is cancelled during simultaneous digital information events & on 07.06.23 and 14.06.23 !)


Visit our Open Office hours at the university for a brief initial clarification of your concerns. During the lecture period, the open office hours take place Tuesday to Thursday from 11:00 a.m. to 12:00 p.m.. You can find the respective contact person on the notice on room 1.92 - Central University Administration. (Important: there will be no open office hours on 14.06.23!)

Detailed questions? Make an appointment?
Please email us at studienberatung@uni-bayreuth.de or use our contact form (in German).


There may currently be delays in making appointments and responding to inquiries. Please make greater use of our direct services such as the hotline, Zoom consultation hours and our open consultation hours for brief consultation requests.


We recommend counseling sessions via Zoom or telephone. Appointments in presence are possible by prior arrangement.


---

We would be happy to inform, advise, and support you ̶̶ confidentially, personally, and independently!

Are you a high school pupil (FAQs in German) and do not yet know whether you wish to study or what you would like to study? Do you have questions about application, admission, or enrolment?
Do you wish to study without doing the abitur?
Are you a student (FAQs in German) and unsure whether the degree programme you have already started is right for you? Have you got into difficulties with your studies due to personal problems? Are you looking for the right contact to discuss your concerns?
We would be happy to provide you our comprehensive information & counselling services (PDF file in German), to assist you before, during, and at the end of your studies!
In our brochure studying & living (PDF file in German) in Bayreuth you will find more information about studying in Bayreuth.